Discover DJ Daddy Mack believes that when it's real, love is love! We proudly work with the LGBTQ community, because everyone should feel comfortable on their most precious day and create memories that will last a lifetime.
Weddings are stressful enough without worrying if you will feel comfortable with your event vendors. As an LGBTQ friendly vendor, we stress the importance of taking the time to get to know our clients on a personal level, helping them to feel comfortable with their entertainment choices and for us to provide a better level of custom DJ services.
If you are having an outdoor event or are in a place that does not have an existing sound system in place, we will arrive with all the necessary equipment. Our wedding packages can also provide lighting, and other equipment requested for the event.
Many couples want a wedding DJ who is going to be the life of the party and able to entertain the event. We will come dressed accordingly for your event and keep everything professional and family friendly. DJ Daddy Mack has a large selection of music available and we guarantee you will not be disappointed!
Daddy Mack Sound & Design 100% guarantee's (ask about Terms)
DJ Daddy Mack has adapted to the "New Normal" with the ability to put powerful and celebration music and entertainment. Special wedding. With this online combination to celebrate, you can now the ability to invite persons from  all over the country to all over the world. If looking to put positive energy with the power of music back into your very special wedding events with a celebration. We can help please click on logo to find out about more of our online DJ combination services.
Custom poster / ticket and web page designs for any event as well we offer social media posting if it is desired. By the design company jagworks Designs Just click image to the left. Click Here for prices
Try the Services we provide
Discover our DJ with 40+ years experience
We supply a cordless microphone
Complete setup and teardown
Appropriate Sound system for the venue
Minimum 1.5 Hour set up time before event at no extra cost
Co-ordination with the venue prior to the event
We put together your music to play and music not to play if requested
100,000 legal digital songs
CPDJA & Connect Music Licensing licensed to play digital music in any public forum.
Daddy Mack Sound & Design 100% guarantee's (ask about Terms)
Discover the DJ Daddy Mack difference
We provide music styles to custom music design for our clients
We,  free of charge, provide your family MC a printed list of what to do to make the reception run smoothly
Experience our DJ Daddy Mack gift basket
Custom designed Request Sheets for the tables
We ask for a  collection of  20 of the couples favorite songs and mix them on 4  Custom CD's.
"DJ Daddy Mack brings you back to the music you Love!"
Free 2 hour Music consultations for weddings included in deposit
Daddy Mack Sound & Design 100% guarantee's (ask about Terms)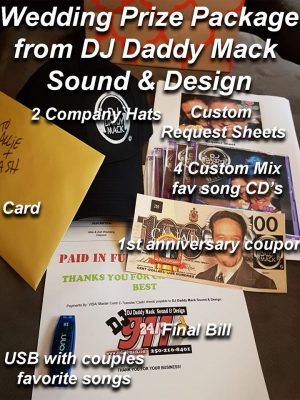 We have all types of music for any and all occasions or holidays over 10,00,000 legal songs